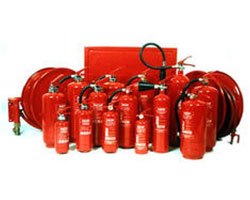 Prepare yourselves for all the possible fire hazards with the help of our experts.
We, Indean Fire Safety System, are dedicated to the safety of the people living in the city and that is the reason why we have worked for so many years in fire safety and prevention industry – we specialize in the service, sale, installation, and maintenance of fire extinguishers which are designed for using in case of Class A, Class B, and Class C fires.
We have a wide range of fire extinguishers and other similar fire prevention products which are manufactured and put together to be helpful if any hazardous situation arises. We also provide Fire Extinguisher Installation Services in Mumbai to the clients – we have a wide selection of highly customizable fire systems, extinguishers, which are known for meeting the exact specifications set by the industry and concerned authorities of the country and Maharashtrian state.
Our installation services are provided by some of the most experienced, talented, dedicated, and innovative fire experts who have the necessary training required to be able to work in complex industries like ours.
Our clients can sit back and relax while our installers take care of all the fire systems, maintenance, and installation process. They're given the ability to choose from an impressive and creatively maintained variety of finishes, sizes, materials, trim options, styles, and structures which complements their business and residential layout.